Perth's popular choice in catering services
At Modern Catering, we understand that our quality and service is only as good as our last catered function. That's why we are proud to share just a few examples of glowing feedback we have received from our loyal clients.
A sample of our testimonials:
Thank you very much for the professional approach and manner you and your staff provided for our dinner on Saturday night.
You were obviously very well organised and the food was exceptional.
We can highly recommend you to our friends should they need catering in the near future.
Yours sincerely
Diane Kent, Committee and Staff for ACA 21st Clogging Convention, Perth 2016.
"I just wanted to say thank you for today's catering, everyone commented that the food was really tasty! See you next time!
Kind Regards, Gemma Bailey - Reece Onsite"
Thank you so much for the delicious meal on Saturday, the powers that be, including the Principal and Bursar, were extremely impressed with the quality of food and the excellent service provided by your staff.
I very much appreciate the effort you put into that part of the function.
Many thanks
CARLEEN EDWARDS. HEAD OF DEPARTMENT/CADET COORDINATOR. CATERING & HOSPITALITY SERVICES
Hi Modern Catering Team, I hope this email finds you all well. I just wanted to express my many thanks to you and the team for providing the catering for our recent events. I have spoken with all the clients who held functions this week in which have all been extremely pleased with the quality of meals and level of service provided for all. The organiser from ACTIV has expressed her gratitude to the wonderful catering and has vowed to return to host all events here at the club as it was such a huge success. The committee from R.O.A.D.S also extended their many thanks and appreciation for the wonderful catering provided once again. They all agreed the meal was fantastic. Colleen & John Hanlon were also very impressed with the catering provided for johns 50th Birthday on Saturday night. Once again thanks for continuing to provide outstanding catering to Perth Football Club. Kind regards Ryan Keatley Bar & Functions Manager
Gentlemen Thanks again for all your effort for the CEDA Luncheon today. Great feedback on the food, service and most importantly on the excellent attention to detail. Much appreciated.
Wendy D'Arrigo - Executive Assistant Pawsey Supercomputing.
"Thanks again for a wonderful lunch today - we had lots of compliments on the food, so congratulations! I'm going to pass on your details to a friend of mine, who is quite local, as she was very impressed.
Thank you for the excellent arrangements for our Christmas luncheon buffet. We had many compliments and we will definitely book again next year. Jamie Fong - Office Supervisor. L & M Radiators.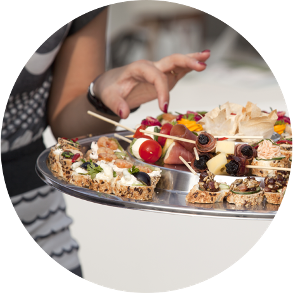 Speak to us today about catering your next event